How the New Craft Artists in Action are Inspiring Community Art in Boston
This story appears in the second edition of WSLAM 2. Get your copy here.
Maria Molteni learned how to play basketball at 7 years old from Dominican nuns in Nashville, TN. They (Molteni uses the non-binary pronoun) played on teams for the next 10 years but always felt they had to keep their artistic side hidden in the world of competitive sports. But after getting their BFA from Boston University, Molteni returned to what had become a meditative routine of free throws and ballhandling drills on a court near their now adopted home in Boston, MA. Molteni, who used the court as a way to get both exercise and a break from the isolation of their studio practice, saw the space was barren and untended to, and decided to bring the art inside of their studio, made in a nearby moldy basement, outside to adorn the court's empty hoop with a knit and crocheted net. A vibrant pop of color in a patch of drab concrete.
Molteni, who trained as a dancer and painter, invited some more craft-oriented friends to make additional nets to dress other nearby naked rims. The experiment became a movement. Molteni and crew founded New Craft Artists in Action (NCAA) as a "Queer/Feminist collective" in 2010 and went to work leaving colorful, handmade knit, crocheted and macraméd woven nets around the city, and then the globe, in conversation with—but flyer—than James Naismith's peach basket. Part yarn bombing, part graffiti, part site-specific art intervention, part Judy Chicago in high tops, the NCAA's first project came to be known as Net Works, as the collective shared their techniques and knowledge with community members, encouraging them to create and hang their own handmade nets.
Like other do-it-yourself movements before them—punk, hip hop, skateboarding, basketball to name a few—the NCAA encourages "participation over spectatorship" and believes everyone is and can be a contributor to the public sphere. The NCAA invites, in particular, Queer, femme and gender non-conforming artists into their communal-making practice as a way "to pull people off the benches and out of the margins and celebrate soft power as much as classical strength," Molteni tells us.
In 2014, Molteni and the NCAA set their sights on the beautification of the courts themselves and began to pioneer a community-centered basketball court mural movement. Back then, treating the court as a canvas was a novel practice, something reminiscent of NYC-based graffiti writers selecting the concrete of handball courts to display their lettering and characters. What has become the NCAA's "Cosmic Courts" project is a communal art program where members of the community have literal and figurative hands in designing a court in their neighborhood. Molteni imagines the courts are "community altars, dance floors, horizontal monuments, multi-use labyrinths, where all kinds of bodies can gather and work through dreams, tensions, challenges in a level space."
There is a richness and a kind of egalitarian equity in the right to beauty and art that Molteni and the NCAA envision and create, participating in a lineage of space makers from Cornbread and the Philadelphia wall writers to Jane Addams and the Hull House movement. Sport, and hoops in particular, aspires to a similar kind of fairness and accessibility.
In emailing with Molteni, I asked who their favorite WNBA players are. "I'll always hold Mistie Bass and Kelsey Bone high for being the first to take a knee," they say. "And of course Sheryl Swoopes for being the great Mother of the WNBA. I often trace the shape of her magical hands for some of my artworks."
To find out more about Maria Molteni and New Craft Artists in Action and their court art and interventions, visit www.ncaacollective.net.
---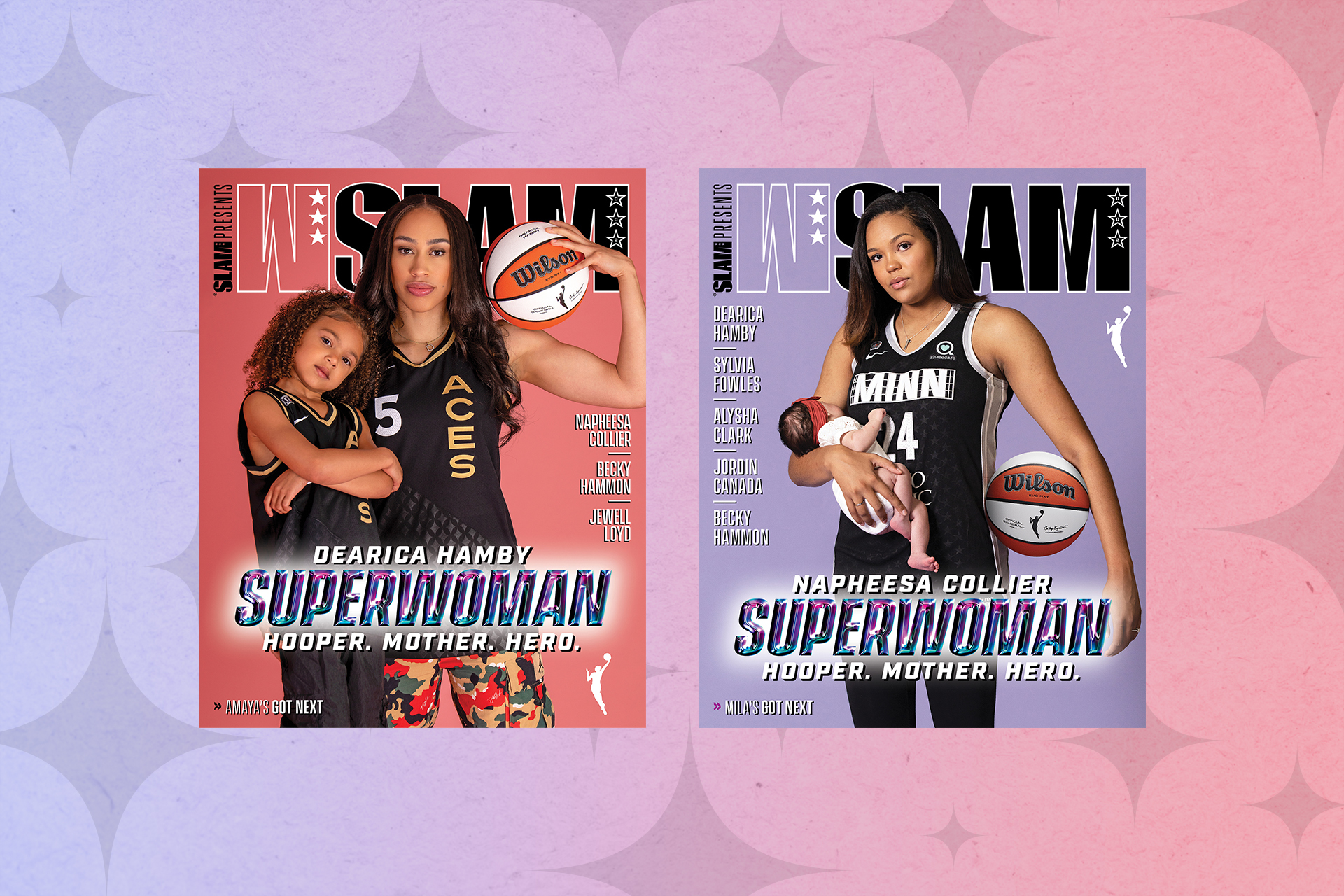 WSLAM 2 is available now. Get your copy here.
Photo credit to John Maciel.